Year 5
Welcome to Year 5!
To get in touch with the Year 5 team, email :
year5@parkspringprimary.co.uk
5A
Teacher– Mr. Hansen and Mr. Woods
5B
Teacher– Mr King
Year 5 Teaching assistants: Mrs Eden and Mr Serano
Important dates
Reading records and leveled reading books taken home on a Monday and returned the following Monday
PE: Wednesday and Friday (Come to school in PE kits)
Maths: Practise your times tables knowledge: x2, x3, x4, x5, x6, x7, x8, x9, x10, x11, x12
Home Learning
Y5 Requirement for each pupil
Lexia/Bedrock/TTRS/Mathletics.
To read and have recorded 5 x per week.
Complete home-learning sheet- handing out on Monday and due the following Monday.
Useful links
2023/24
Autumn 1 
Week 6
This week has been another great week for writing. We have been exploring a text about Anglo-Saxon battle scene as they were faces with an unbeatable Viking beast. King Hakon, the king of the Saxons, didn't stand a chance. We cannot wait to see how the children will write the ending. Will the Viking defeat them all or will King Hakon manage to be beat the undefeatable?
Week 5
Our science topic this half term has been forces. This week, we have been exploring air resistance so it was the perfect time for us to drop objects down the year 5 and 6 stairs with various sized parachutes. Following very detailed predictions, we found out that larger parachutes create more air resistance because it has more surface area.
Week 4
It has been an outstanding week of the children really displaying the Park Spring ethos! We have been so impressed with the children's effort in our PE lessons this week. They have been exploring how to use space in competitive games such as football and netball. Overtime, they will be developing greater team work to be able to problem solve in various sport or activities.
Week 3
This week this children have written amazing innovations of the story, Wolves in the Walls. You will be amazed to discover all the various animals that the children have found in the walls from dinosaurs to squirrels. All the children showed their imagination amazingly!
Week 2
What an amazing week – Aspirations Week! We have met cyclists, mental health nurses, robotics engineers, business people, authors, mathematicians, footballers, politicians, finance experts, police officers, construction engineers, television broadcasters, chefs, recruiters, actors and singers and even guide dogs! It has been so amazing, it's a miracle we've fitted in all of the amazing lessons we've had this week too.
Week 1
This week Leeds Rhinos super-star Tom Holroyd visited us! He told us all about his journey to excellence in Rugby League and we had a chance to ask about his inspiring journey. We even had time for some photographs and signatures!
2022/23
Spring 2
What are we learning?
Y5 South America Rainforest KO (3)

Y5 HT3 KO Animals including humans Life cycles

Week 4
What an exciting week in Year 5, we have started writing up our rainforest poems in a first draft, and have started a new topic in Maths – all about shape.
We have also continues our learning on the Amazon rainforest, and lots of learning has been completed on the layers of the rainforest!
Week 3
This week we have been working hard on learning about different types of poems. We all competed our post assessments on Fractions, Decimals and Percentages – and everyone has made great progress! Well done Year 5!
Spring 1
What are we learning?
History
Y5 Saxon Viking Struggle

Science
Y5 HT3 KO Animals including humans Life cycles

Music
Spring Y5 KO

And our author of the half term is JK Rowling!
Week 3
This week we have finished writing our Viking reports! They look amazing and a few children have even achieved a handwriting pen as a result! Well done!
We have also had a big push on Home Learning this week – well done to all those children who have completed it!
Week 2
This week we have launched into our new Science topic and continued our learning all about the Vikings! Have a look at our knowledge organisers above for more information about the exciting goings on in our learning. We also emailed these out to parents – to allow learning to continue at home!
We've also started our exciting class reader – Harry Potter and the Philosopher's Stone. Miss Bacchus is very excited to get reading!
Week 1
What a great week we have had! Firstly, welcome back everyone! Our big highlight of the week had to be our trip to Jorvik Viking Centre in York! We spent the day exploring the underground city of Jorvik – a Viking settlement buried deep under the city of York. We also headed over to the DIG centre, where children had a go at excavating their own artifacts, and even heard Viking tales of Thor and his hammer. The children were a credit to the school and were amazingly sensible when walking across York!
Autumn 2
Week 6
Another FAB week of learning! We have finished our debates on plastic pollution in English, producing some wonderful writing! Upper KS2 did an amazing performance for Christmas in front of parents and also got to visit Santa, in his Grotto! On Saturday morning, some Y5s joined Mrs Horan, Mr Barker, Miss Bacchus and Mr Shaw bag packing at Morrison's to raise money for their Y6 hoodies- well done guys!
Week 5
This week, we have started to look at multiplication methods in Maths. We also finished off our Science topic off on Space, as well as our Geography topic on Coasts. The children are enjoying practising their Christmas songs and are getting excited for Christmas!
Week 4
A great week of learning, again! We have absolutely smashed Fractions in Maths, figuring out tricky questions. In English, we have continued to add to our debate on plastic pollution- the children believe we're damaging the Earth and the use of plastic should be minimal. Upper KS2 are also practising Christmas songs for our Christmas production!
Week 3
Another great topic this week – COASTS! Year 5 have been learning all about the UK coastline. From Whitby to Plymouth. We looked at how stumps and stacks for, how arches are made, and even had a go at writing our own Travel Brochure for a coastal town. In English, we are beginning to write up about our 'STOP PLASTIC POLLUTION' debate – and in Maths we are finishing off our fractions unit! Here is just one of many examples of exciting learning going into books this week:
Week 2
This week, we have started studying the formation of coasts in Geography! We have discovered that erosion causes coasts, leading to stumps, stacks, arches and bays! On Friday, it was 11/11, we paid 1 minutes silence to the soldiers of WW1 and looked at how life was like in the trenches of soldiers…it seemed pretty gruesome!
Week 1
Wow! What an amazing start to Autumn 2. We have had a jam packed week of learning and have started our exciting Space topic in Science. On Thursday, we had a planetarium visit us and we got to travel through the solar system and learn about the planets!! We have produced wonderful learning on Space too!
Autumn 1
Week 7
This week, we made cars in DT- this involved constructing the car out of wood and building a circuit to make it move!
Week 6
In Year 5 this week, we have been practising our agility and throwing and catching skills in PE. We also experimented with making pulleys in Science to make objects move!
Week 5
In PSHE, we have been looking at money management and different career choices. We have also been great artists, designing Anglo Saxon art jewellery.
Week 4
This week, we have started writing information texts on the Anglo-Saxons linking to our History topic. We also made boats out of clay to test water resistance in Science!
Week 3
We have been making parachutes in Science this week, linked to our Science topic- Can you feel the force? As well as this, Y5 have been fab mathematicians; studying place value and rounding to 100,000! In English, we have been studying our class reader The Wolves in the Walls to help inspire our story writing next week.
Week 2
This week, Year 5 started Forests Schools with Miss Carey- this involved team work in order to build dens from sticks. We have also learning about Forces in Science and conducted an experiment testing gravity!
Week 1
The children have made a great start to Year 5! We have discussed our class mission statements, rules and targets! We have stepped into the roles of Historians and have been exploring Anglo-Saxon Britain.
2021/22
What are we learning about this year?
Year Group 5 Curriculum Maps (LTP and topic themes)

Summer 2
Week 4
What a busy week! On Monday, we were making robotics using our LEGO kits and the WeDo app:
Then on Wednesday – SPORTS DAY!
We finished the week with something a little different as well – A 'Dragons Den' style pitch for raising money for hoodies!
Week 3
This week we have been making circuits in Science with Miss Orbell. We first made a circuit, then added our DIY switches. Finally, we made circuits which had buzzers, lights and buttons!




Week 3
This week – We have been sewing in Art. We first designed our river sewing pattern, then we used dip-dye to colour some fabrics. To finish, we spent the afternoon with needles and tread, joining fabrics and sewing patterns. Here are some of the great results!





Week 4
Wow – We are continuing to smash our maths! This week we have been beginning our afternoon Maths boosters – and they've been a huge success!
Week 3
We are EUROVISION-CENTRIC this week in 5B. We have been given Portugal and spent Tuesday afternoon learning all about the difference in cultures between the UK and Portugal, including food, climate and buildings.
Week 2
This week we have been finishing off our decimals topic. We have added and subtracted decimal numbers and are currently writing up Henry VIII biographies for our writing wall.
Week 1
This week we have been working hard on our fractions, decimals and percentages. We have begun our new History topic all about Henry VIII and his wives.
Spring 2 term
This half term, our big topics are "Why should the rainforests be important to us all?" and "How do Artists paint jungles?"
Please find our Geography Knowledge Organiser below:
Y5 South America Rainforest KO (1)

And our Art Knowledge Organiser here:
Our class reader is the amazing illustrated novel "The Arrival"
Week 2
This week in Maths we have been focused on equivalent fractions, which has lead to some lovely learning produced by Madison and Katie:
Madison's Maths
Poppy's Maths
Victoria's Maths
We also had a good go at our new Art topic, and begun our journey learning to use water colours…

Victoria's Art
Week 1
This week we launched into our new topic, all about Rainforests!
Our classroom was transformed into a rainforest, with it's own parrots and animals!
Spring 1 term
This half term, our big topics are "Were the Vikings really viscous thieves?" and "Can we compose Music for the Valkyries?"
Please find our History Knowledge Organiser here,
And our Music Knowledge Organiser here,
Our class reader is the epic tale "Viking Boy"
Week 4
What an amazing week. We have finally finished writing up our Viking reports, and they look fabulous! Have a look our writing walls for some great examples.
Week 3
For Science this week, we have investigated how life cycles differ for mammals, amphibians, insects and birds. We also began writing up our Viking reports and cannot wait to get them finished next week!
Week 2 
In PSHE, we began our topic on keeping safe in different situations! We also started getting lots of facts in our books for History – all about the Vikings.
Week 1 – Jorvik Trip
What an amazing day we had in Jorvik yesterday! Children were greeted to the underground Viking world of Jorvik city, buried under the city of York. We went on an amazing ride through an old Viking settlement, before being shown some real artefacts. After that, a Viking showed us how to make our own Viking coins, before we headed across York to the DIG centre. There, we were shown artefacts which had been found all around York, including Roman and Victorian treasure. Then, we took part in our own excavation, digging up everything we could find. Finally, we finished by looking at some Viking weapons!





















Autumn 2 term 
Our Class Reader –
Week 5
This week, Year 5 have been finishing off their superb writing topic, all about Plastic pollution. It was lovely to read all about children's arguments and persuasive language!
Week 4
This week, our highlight of the week was using "DIY" playdough to create costal features such as stacks and arches. It was great fun! We then took part in a protest about the use of plastic in school. The children loved walking round chanting outside Mrs Horan's office.
Week 3
YET ANOTHER crazy week in Year 5, this week we've been making coastal features out of play dough! Some amazing caves, stacks and cracks were made! We also took part in Children in Need day on Friday and anti-bullying week all week!
Week 2
Another great week this week! We have been voting on our school council representative for the Year 5 classes. A big well done to Poppy K and Niamh who won the most votes, but also a big shout out to all those who took part in the elections! We also took part in Remembrance day activities, including the minutes silence and writing letters from the front lines.
Week 1
What a start to our Autumn 2 term! On Wednesday, we had the WONDERDOME into school. This allowed children the experience of a visiting planetarium, to help launch our new topic, WHAT IF THE SUN DIDN'T EXIST?
On Thursday afternoon, we then launched our new Geography topic, all about coasts. This involved children making their own coastline in a tray!
And then on Friday, we took part in Leeds City Council's Scooter safety training!
WHAT A WEEK!









Autumn 1 term 
Week 7
Year 5 have had a busy, but exciting half term! Over the last seven weeks, we have:
Made Parachutes,
Written descriptive stories,
Made gears and motors work with iPads,
Raced our own cars down the corridor!
Tested water resistance with sinking submarines,
Made our own Anglo-Saxon jewellery
We can't wait for next half term!
Week 6
What an exciting week. This week we have had an amazing science experiment (all about water resistance), designed some amazing Anglo-Saxon artefacts and used coding to build our own working gears using LEGO. All this whilst also learning about statistics in Maths, and beginning to write our Non-Chronological reports in Writing!








Year 5's programming LEGO WeDO kits!



Week 5
This week, we have been finishing off our Addition and Subtraction topic. We have also been learning about money in PSHE and how we use it sensibly. In computing, we did our first Digital Citizenship lesson of the year, which covered Media choices and the right choice to make when accessing media. In PE, we started our group games, playing bench ball outside! We also finished our letters back to Lucy from the wolf in the walls.
Week 4
Over the week, we have been researching and making our own parachutes, culminating in a Thursday afternoon science experiment – "What can save the maths bricks?"
This involved dropping our very own made characters and seeing what type of parachute would slow them down the most. Unfortunately Mr Shaw's iPad wasn't working, but let's imagine they looked a little something like this! This week we also finished our RE topic and discussed what we valued the most in our lives, as well as writing up some amazing French – all about animals in different places!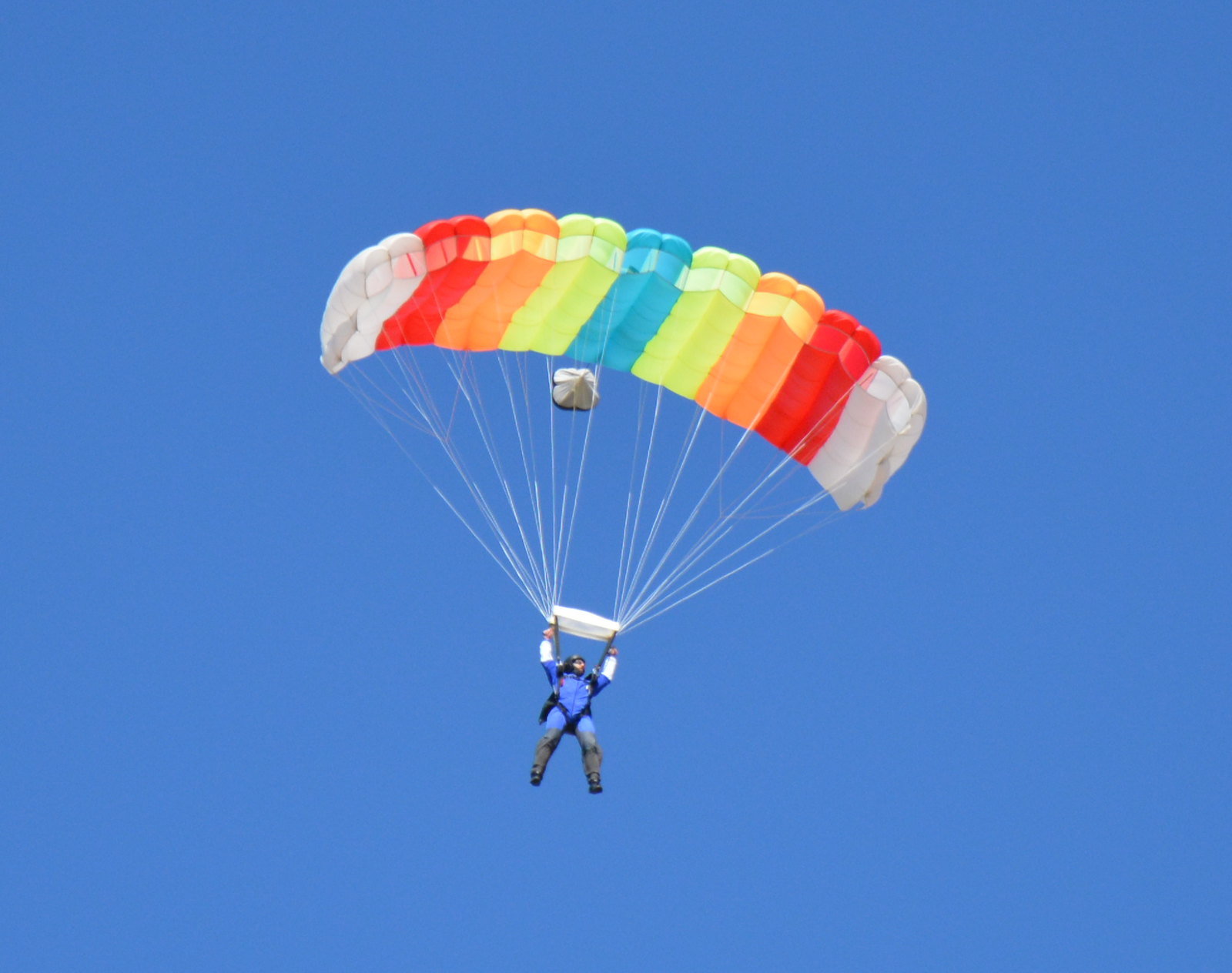 Week 3
This week, we launched our latest class reader – Anglo-Saxon Boy. This ties into our fantastic Anglo-Saxon topic: 'What happened after the Romans?' In our first few History lessons, we have looked at how Anglo-Saxons recorded their history, and how they buried their people in long boats underground. Year 5 wrote some great notes and even designed their own timeline!
Week 2
In our second week back, Year 5 were focused on our new Science topic – Forces. We had a go at seeing how paper falls quicker if it is folded – and the effects that air resistance has on it. We also spent some lessons of PSHE discussing discrimination and stereotypes. Finally, on Friday, we completed our first topic day all about RE. We looked at how different religions dealt with bad choices and good choices.
Year 5 had a visit from the incredible author Kate Pankhurst, writer and illustrator of the Fantastically Great Women series of books. She spoke of her inspirations for how she came up with the ideas Read more…
Inspiration and Aspiration Program So as part of developing our pupils and preparing them for life after Park Spring we are really keen that pupils are INSPIRED to be successful – each and every day Read more…
What an amazing day we had in Jorvik yesterday! Children were greeted to the underground Viking world of Jorvik city, buried under the city of York. We went on an amazing ride through an old Read more…
Years 3,4,5 an 6 were so lucky to go see Sleeping Beauty yesterday at the Alhambra Theatre in Bradford. The children really enjoyed the show, and smiled and laughed lots. We are very grateful for Read more…
Last week, Year 5 had the lucky chance to work with Leeds City Council's Road Safety Team. This involved having some training on how to travel around in the playground, before we took Year 5 Read more…
Well done to our Black History Month competition winners and entries! I am incredibly proud of your hard work and enthusiasm in researching your chosen hero and presenting them, AND in your own time. Amazing! Read more…